GLORY Therapy, LLC provides an exciting therapy program, called intensive model of therapy, IMOT, utilizing the NeuroSuit™, the Universal Exercise Unit "Cage", the Masgutova Method, and other "tools" that have been the Blessing of our experience in the field of Physical Therapy. Physical Therapist, Karl Kaufman, who started his IMOT experience in 2005, was trained by Occupational Therapist, Patricia Stotsbery, LOTR, who spent time with Russian doctors and trained with Polish therapists who utilized this method of therapy in Poland. Karl's professional training with Intensive Model of Therapy has offered opportunities to work with many patients from across the United States, including a well-known celebrity in Malibu, CA.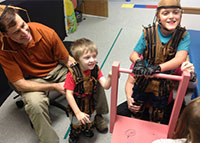 • Goal specific activities- performing activities directly focused on practicing the skills needed for achieving the goals repetitively!
• REPETITION! REPETITION! REPETITION! One of the great benefits to IMOT is repeating all of these activities, giving the brain the opportunity to learn and relearn. Practice takes advantage of the neuroplasticity of our brains to form new pathways.
At GLORY Therapy, our goal is to empower families/caregivers after the IMOT session with a home program that will allow them to continue in the progress as they "Go Live Out Rehab Yourself". We have been "experimenting" with sessions of 1-2 weeks to help patients to continue in the progress and not demonstrate regression. Many of our patients return for a full IMOT session in 4-6 months.